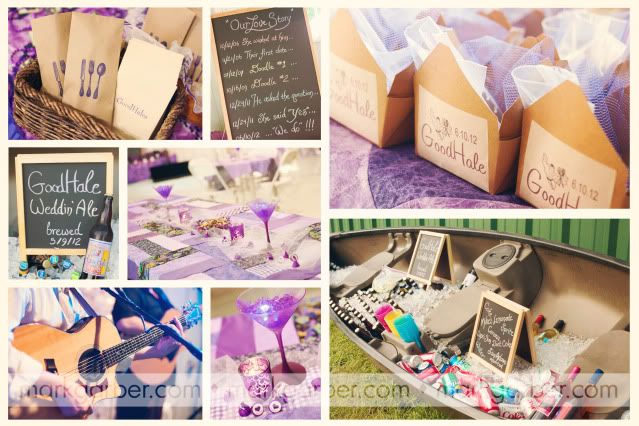 Each week on the studio's
Facebook
page, we post an Inspiration Board to help our brides and grooms with party planning ideas. This week's board is from Donna and Brad's rehearsal dinner held at the father of the bride's house in upstate New York.
They had wanted to have a good old-fashioned barbecue to give their guests the chance to unwind and kickback before the wedding. Even though it was to be a casual event, Donna and Brad still made plenty of fun and unique touches to their party tying in many of their favorite hobbies.
The couple loves to canoe and explore all the rivers near their house so the canoe made a perfect cooler for their custom brewed wedding beer. The Goodhale Ale 'Honey-do Wheat' was a hit with all the guests. They used chalkboards for decor as well as signage, tying in with their save-the-dates which were made from mini-chalkboards. The linens were done with a cute quilted pattern and were made by the groom's mom...truly a labor of love!
Dinner had all the classic barbecue fixings and to make dining alfresco easier (and cuter), guests could pick up stamped little paper bags containing all their silverware. And what cookout wouldn't be complete without a bonfire and s'mores? Take out boxes held all the yummy ingredients to make your own tasty treat!
Donna and Brad proved that casual doesn't have to be bland or boring and that's why they're our Inspiration Board of the week! Congrats!
Resources:
Etsy.com
had the stamped paper bags for the cutlery as well as the take out boxes
Theknot.com
's Wedding Shop has custom logo chocolates
The chalkboards came from local craft stores and the labels for the boxes and beer were printed from home.